Leonard R Brand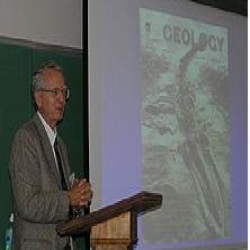 Paleontologist Name
: Leonard R Brand
Education
: Ph.D. in Biology from Cornell University
Date of Birth
:
Research with
: Dinosaurs vertebrate paleontology
Worked on dinosaurs type
:
Country
: United States
Paleonlogist Scenario
He was expert in taphonomy, ichnology, vertebrate paleontology, mammalogy, and philosophy of science. His research has focused on experimental taphonomy of vertebrates, fossil trackways of the Permian Coconino Sandstone in Arizona
He is presently a professor of biology and paleontology in the Department of Earth and Biological Sciences (School of Science and Technology) at Loma Linda University,as well as the department Chair. Brand is also a creationist and proponent of Intelligent Design.
Paleonlogist Source