Monday, February 22, 2010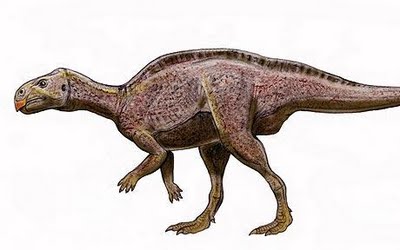 London, Feb 21 (ANI): Paleontologists have discovered a primitive lost world which was ruled by miniature dinosaurs
Sort of a pigmy Jurassic Park, the island was the homeland of dinos who were up to eight times lesser than some of their mainland cousins, reports The Telegraph.
Dwarf
dinosaurs' fossils
were establish in what is now modern day Romania, in an area known as Hateg, which, 65 million years before - when the creatures were living there - was an island, reports The Telegraph.
One of the fossils was of Magyarosaurus, which was small bigger than a horse, but was related to some of the biggest creatures to ever walk the Earth - gigantic titanosaurs such as
Argentinosaurus
, which reached up to 100 feet long and weighed approximately 80 tons.
Professor Michael Benton, from the University of Bristol, who carried out the delve into with scientists at the Universities of Bucharest and Bonn, said: Most of the well-known dinosaurs that we know about were living on big landmasses at the end of the Cretaceous age.
The inquisitive thing about Europe at this time was that it was largely covered by sea and much of Eastern Europe was a type of archipelago of islands.
If you are a big dinosaur on a little island with limited food and space, then the evolutionary pressure is either to go
extinct
or to get lesser.
The findings will be published in the scientific periodical Palaeogreography, Palaeoclimatology, Palaeoecology. (ANI)
Labels: dinosaur age, dinosaur history, dinosaurs family, Dinosaurs world
Tuesday, January 26, 2010
A hand-built model of an early flying dinosaur may explain precisely how the four wings of Microraptor gui helped it glide down from trees.

Basing their work on a cast of a very fresh-looking fossil, University of Kansas scientists created a model airplane-like mock dinosaur made out of plywood, balsa, and carbon fiber. Then, they attached one of three sets of test wings of dissimilar configurations to the body with rubber bands. The wings even featured real bird feathers whittled into likely shapes.

We went rear and forth. We thought, maybe we'll do 3-D graphics and it'll look actually cool. But it's more precise to do the modeling directly from the specimen, said Dave Burnham, a paleontologist at the University of Kansas and co-author of a new paper on the work in the actions of the National Academies of Sciences.

Microraptor gui was a little dinosaur species that lived about 120 million years ago. About two dozen specimens have been recovered from close to Liaoning, China. The Kansas team was lent one well-preserved fossil, from which they began their rebuilding efforts.

With the model in hand, they were capable to test how the animals might have glided, by attaching them to a catapult that imparted a reliable amount of thrust to send them flying through the air. By measuring the distances that the dissimilar wing configurations allowed the model dinosaurs to fly, they were able to determine which wing type would have been most competent.

The biomechanical reconstruction of flying creatures not seen today is a tricky business. Burnham and his collaborator, University of Kansas paleontologist David Alexander, argue that the birds most likely glided with their legs splayed out — not unlike a flying squirrel.

Others argue for a dissimilar wing configuration, in which both sets of wings are parallel to each other, what they call a biplane configuration. Sankar Chatterjee, a paleontologist at Texas Tech, and R. Jack Templin, an independent scholar, say that as an alternative of splaying out like a squirrel, the animal would have tucked its legs below itself.

Labels: dinosaur age, Dinosaur animals, dinosaur history, Dinosaurs world
Monday, January 25, 2010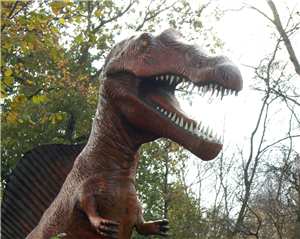 They escaped custody when they appeared before Norwich courts.

Prosecutor Lisa Britton said: They broke into the Ice Age indulgence hut and stole sweets, fizzy drinks and other confectionary to the value of £100. Some of these items were afterward found strewn around the park in plastic bags.

They also smashed the hut as they broke in and some of the dinosaurs had been moved out of place.

Wayne Gray, 26, of Catton Grove highway, Norwich, and Paul Sillis, 18, of Berners Close, Norwich, both admitted two counts of theft after they returned to the park and carried out the matching offence.

Richard Harvey, 22, of Julian highway, Spixworth; Jody Newton, 25, of St Leonards Road, Norwich; and Kirsty Gray, 20, of West Acre Drive, Norwich, every one admitted one count of theft.

The court heard that none had been in serious problem before. In mitigation James Burrows said their behavior had been brainless but not malicious and amounted to tomfoolery.

He added: It seemed like a excellent idea and was fun at the time but it has led to these five young people appearing before the court on some quite grave charges.

Magistrate John Nicholls said that the cases of Wayne Gray and Sillis were provoked by the fact they returned and repeated their offense.

Wayne Gray and Sillis were sentenced to 180 hours amateur work for the community with £105 in compensation and costs. Harvey and Norton were sentenced to 120 hours amateur work with £75 compensation and costs. Kirsty Gray was given a 12 month conditional discharge with recompense and costs of £75.


Labels: Dinosaur Display Museums, dinosaur history, Dinosaurs world
Monday, January 11, 2010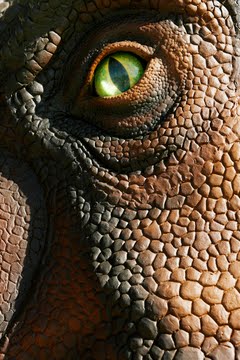 Dinosaurs
last ruled the earth 65 million years past, but for the next three months they will rule no less than 6,500 square feet of it.
The Gulf Coast Exploreum Science Center — the REX-ploreum, if you will — will stock its patio with 10 animatronic creatures guaranteed to thrill the adolescents and charm their parents. The courtyard, transformed with plants and a waterfall, among other cosmetic flourishes, will showcase the usual suspects including the stegosaurus, triceratops and the vicious Tyrannosaurus-rex.

The exhibit, owned and organized by Billing Productions Inc., is titled Dinosaurs Downtown! and starting after that weekend, Mobilians can listen to the roar. (See information box.) The traveling display has toured large markets including San Diego, Detroit and Cincinnati. The Exploreum will be Billings' primary science center venue.

The Mobile exhibit will characteristic: Tyrannosaurus-rex and the T-rex babe; Brachiosaurus; Dilophosaurus; Parasaurolophus and egg nest; Triceratops baby; Stegosaurus; Apatosaurus baby; Deinonychus Slasher among Parasaurolophus; Tupuxuara; and Sinopterus.

Labels: Dinosaurs Horn, Dinosaurs Skin, Dinosaurs world